What We Offer
For You And Your Family

First Financial offers supplemental health insurance benefits and financial services through your employer. We are committed to helping you make the most informed decisions in your financial planning for the best price available.

For Employers

We specialize in supplemental health insurance benefits and financial services to employees of school systems, hospitals, counties and city governments. From educating your employees on benefits and services to flexible enrollment options, to a full range of administrative services.
---
Who We Are
We are an introducing broker dealer who has professional relationships with over 120 different insurance and investment companies. We are continually shopping the market for our clients in an effort to assure that our clients and their employees are offered the best voluntary benefits for the very best price available.
Because financial stability is very important, we only work with vendors who have an A or better rating. We also ensure that we work with vendors who will be responsive to the needs of our clients and our Administration Company in the areas of billing and customer service
Another thing that distinguishes us from our competitors and continues to keep us at the forefront of the industry is that First Financial possesses our own securities brokerage in-house - First Financial Securities of America, Inc. FFS is a full service investment brokerage which allows our clients access to all types of investments.
We're here to help you offer a better benefits package that benefits you too.
---
Where We Offer Our Services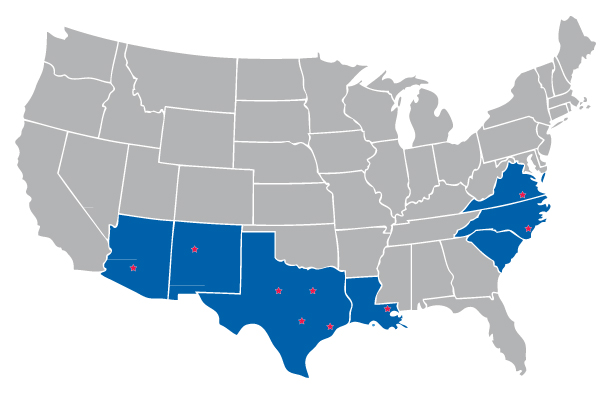 Arizona
Louisiana
New Mexico
North Carolina
Texas
Virginia
---
Cameron - THE FOUNDATION MATTERS
Purchased by the Cameron family in 1994, First Financial was created to provide employer cost-savings solutions and supplemental benefits to specific industries. Over the years, the Cameron family has built a reputation of resilience and reliability in the financial industry.
As First Financial has grown, so have the entities owned by the Cameron family. The Cameron Enterprise now encompasses twelve companies, a select group who believe the values they share and the financial security they provide create the foundation for all future successes. Visit Cameron Enterprises to learn more about how these companies help provide unique solutions to our customers.